Victoria Gotti Headed To Foreclosure?
I heard about this story over a week ago and figured I would let it simmer a bit before I went off half cocked and wrote it up. Growing up in the NYC area, I heard some scary stories about the Gotti's whacking people who they felt disrespected them.
Have you ever taken a look at those thugs that Victoria calls sons? What's another murder rap for one of them?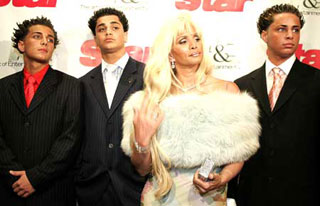 Now, since the news is out I figure now is the time to write up the story about Victoria Gotti possibly facing foreclosure.
Victoria, daughter of John, has her Long Island mansion possibly facing foreclosure. The house is a five bedroom, five and one half bathroom home.  The home is currently for sale for 3.2 million. She owes $650,000 on it. I can't see how this would actually make it to foreclosure. But it is an interesting story all the same.
It would be nice to see this crew thrown out on the streets. We could only be so lucky.
Comments