Octomom Files Bankruptcy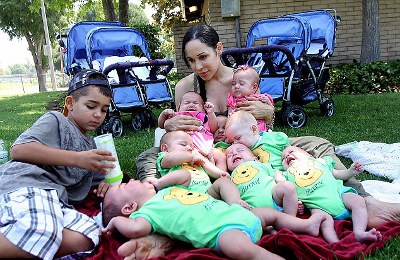 The drama has not finished with Nadya Suleman, Octomom. This mother of 14 just filed for bankruptcy claiming she has over a $1 million in debt. Suleman said she made some difficult decisions this year and filing Chapter 7 is one of them.
In court filings, she reports up to $50,000 in assets. This means she owes more than 20 times her net worth. She owes money to her father, DirecTV, the water department and Whittier Christian School. On her four-bedroom home, she owes over $30,000 in rent.
The owner of the home said his own credit was damaged by letting the home go into foreclosure. The auction was scheduled April 30, 2012 but it has been postponed for a week now.
The unemployed mother has been living off government help with food stamps and Social Security disability payments. Recently, we know Octomom posed nude for rent. Maybe she'll start looking for a steady job now, or not.
Comments