Nadya "Octomom" Suleman pays rent with porno film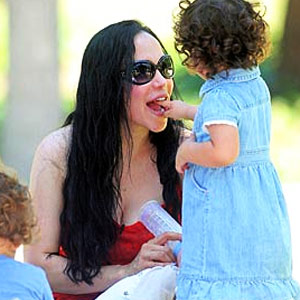 Well, she is back! Nadya "Octomom" Suleman has returned in the news and this time she is living it up in a sweet new crib. Recently, the mother of 14 filmed a pornographic film. The money she made from the film just paid her rent in this 5,000 square foot home in Palmdale, California. Surprisingly, this home appears to be much cleaner than the last home. However, they have only been in the home for two weeks now.
The 37-year old mother invited RumorFix into the home for a tour. The tour begins in the kitchen. This is where she brags about how much she loves the kitchen, since it is where she spends most of the time barefoot and cooking. The trip around the house shows the new furniture and such. However, the small couch or kitchen table certainly does not seat 14 children and her at once.
Comments