Tony Braxton's Second Foreclosure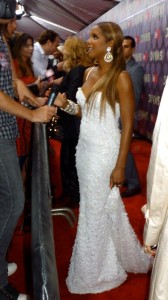 Toni Braxton is singing the Don't Break my Heart tune again these days. However, this time it is about desperately trying to save her Georgia mansion from foreclosure. Unfortunately for her, that attempt was a failure. The home is available for anyone who has $1.1 million and looking for a new property.
In 2004, Braxton took out a mortgage on the Duluth, GA home for $1.5 million. According the bank, she missed 10 monthly payments during 2004 to 2010 (via TMZ). The Georgia mansion is 11,400 square feet. It has six bedroom and six bathrooms while sitting on an acre of land.
This is the second home Braxton had that went into foreclosure. In 2010, she lost her Nevada home.
This photo is courtesy of By Philip Nelson (Tony Braxton – Vh1 Divas Red Carpet) [CC-BY-SA-2.0 (http://creativecommons.org/licenses/by-sa/2.0)], via Wikimedia Commons and it is licensed under the Creative Commons Attribution 2.0 Generic license.
Comments