Miami Dolphins Daunte Culpepper Ft Lauderdale Home Foreclosed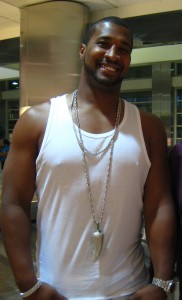 Daunte Culpepper, the 2006 quarterback for the Miami Dolphins lost his almost 10,000 square foot home to the bank due to foreclosure. About 10 years ago, Culpepper signed a 10-year deal with the Minnesota Vikings worth over $100 million. Culpepper was then signed to the Miami Dolphins in 2006 after obtaining a knee injury with the Raiders from the prior year. Culpepper bought the property for around $3.6 million after the Miami Dolphins signed him.
Daunte Culpepper struggled from his past knee injury and only played with the Dolphins for one year. This ultimately led to his foreclosure on his house. Culpepper does still have another house in Broward County that he is currently living in.
This photo is courtesy of Culpepper.JPG: Wrightsonjackson derivative work: Muchness via Wikimedia Commons at en.wikipedia and it is licensed under the Creative Commons Attribution 2.0 Generic license.
Comments