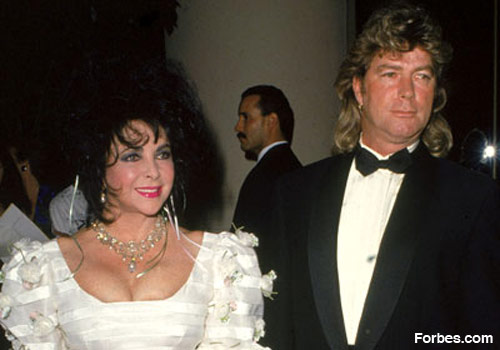 While Elizabeth Taylor battled to survive from congestive heart failure, one of her eight ex-husbands, Larry Fortensky, reportedly battled foreclosure.
And the former construction worker, who struck it rich when he married the two-time Academy Award winner in 1991, apparently had no shame, hitting "Cleopatra" up on her death bed for more money so he could save his house.
Taylor denied his latest request, which was not the first.
MSN.com reports that Taylor graciously forked over $50,000 large to bail Fortensky — 20 years her junior — out of real estate trouble in 2009.
That's after Fortensky used money that he received from their divorce settlement, which was undisclosed but likely ungodly, in 1996 to purchase the three-bedroom home in Temecula, California.
At the time of her death on March 23, 2011, at age 79, Taylor was worth an estimated $600 million.
Sorry, Larry, time to find another sugar mama.