Jamal Anderson is a former football player. He was the running back for the Atlanta Falcons. Anderson's mansion in Atlanta, Ga. just sold at a foreclosure auction for $1 million. He paid around $775,000 for the home in 1999. (via TMZ)
In 2007, we saw this mansion featured on MTV Cribs. The home has 10 beds, 12 baths and is 14,000 sq. ft. This massive house includes a movie theater, pool and basketball court.
Since this former running back has been off the field, he has been dealing with the law. Around Feb. 2009, he was arrested and charged with possession of cocaine and marijuana. The charges were later dismissed. In June 2012, DeKalb County police arrested him for driving under the influence.
He pleaded guilty and the charges were reduced to 12-months of probation and a $700 fine.
This photo is courtesy of Gamerscore Blog via Wikimedia Commons at en.wikipedia and it is licensed under the Creative Commons Attribution 2.0 Generic license.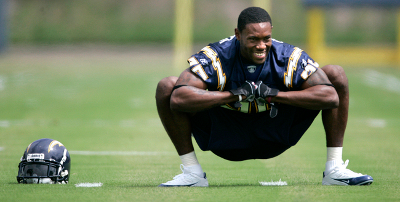 Antonio Cromartie, the NY Jets corner back, has been notified about a potential foreclosure on the home he bought his momma. He became a multi-millionaire in 2006, which is when he purchased this 864-sqft Tallahassee property.
He is being sued for $105,381, which is the amount the bank allegedly says he owes on missed payments. He bought the property for $135,000 at 9.7% interest rate.
The lender says he stopped making payments in 2010 and they are asking for the keys, the mortgage and interest on what he owes.
Last year, Cromartie signed a four-year contract with the NY Jets for $32 million. With the foreclosure, ten children, two more on the way and baby mommas, he might need to negotiate for more money.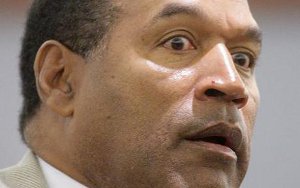 O.J. Simpson, best known for his NFL history and murder trial for his wife and her friend, is back in the news. Simpson's Kendall home has just gone into foreclosure.
According the Miami-Dade Circuit Court records the home is valued at $478,000. He purchased the property in 2000 for $575,000. The property includes four bedrooms and four bathrooms.
Simpson's attorney requested the courts to dismiss the case. There are no reports on the response of the courts yet.
Currently, Simpson is in a Nevada prison serving nine to 33 years for the conviction of a kidnapping and connection with an armed robbery.
Just give me the damn check!
That's more than likely what the construction company that worked on Keyshawn Johnson's house is shouting after the retired NFL wide receiver stiffed them on the bill.
Yep, the man, the myth, the legend, "Me-shawn," who has played with teams like the Dallas Cowboys and Carolina Panthers, apparently owes more than $1 million to Gordon S. Gibson Inc.
Johnson, who is now an ESPN broadcaster, has been hit with a lien from the construction company. He owes $1,115,500 for construction on his residence. It's unclear exactly what he had done to the house, but perhaps floor-to-ceiling mirrors were installed throughout the mansion so he could admire himself all-day, every-day.
Better him than us.
Johnson — who has been known to take large off-field dumps and use gobs of his own money to wipe away his disastrous business investments — more than likely still has tons of cash stashed away to pay the lien whenever he wants.
However, it will raise 10 percent annually until it is paid, according to the official documents.
Wonder if A&E will mention that during an upcoming, over-the-top episode of "Keyshawn Johnson: Tackling Design." It's a great way to save and get the most bang for your buck.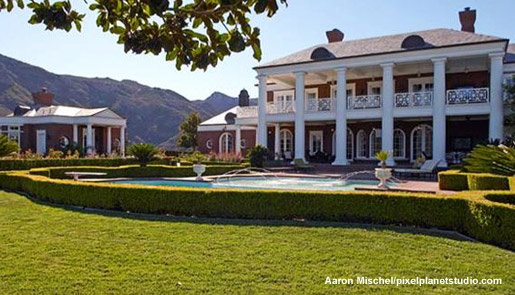 The meteoric rise of Lenny Dykstra from gritty New York Mets outfielder in the 1980s to witty modern-day investment prognosticator appears to be crashing to Earth.
Does that really come as a big surprise?
It shouldn't. After all, we're talking about "Nails" here, folks. The proud tobacco-chewing member of the "Wild Boys" who was giftwrapped and forked over to the club's biggest division rival, the Philadelphia Phillies, for next to nothing (Juan "Big Bust" Samuel) in 1989 during his heyday.
Perhaps Mets manager at the time, Davey Johnson, is smarter than we give him credit for — maybe he knew that Dykstra was a liability. The Mitchell Report might have something to do with it, too.
ANYWAY … "The Players Club" founder and car wash tycoon is in danger of losing hockey hero Wayne Gretzky's old house at 1072 Newbern Ct. in Thousand Oaks, Calif., which he bought for $18.5 million, to foreclosure. In fact, the "uber successful" Dykstra has not made a single mortgage payment yet this year, which seems odd for someone who claims to be filthy rich:
"You know about my stock picking, dude? I'm 92-0 [last year], worst market in history. Three thousand people signed up and pay $1,000 … I'm making people fortunes. I'm moving $3-5 billion a month."
There are epic stories of Dykstra bouncing checks "all over the place," chartering private jet rides that he can't afford with other people's money (including his own mother's)  and defending a litany of lawsuits (18 since November 2008).
Denial just ain't a river in Egypt, Lenny.