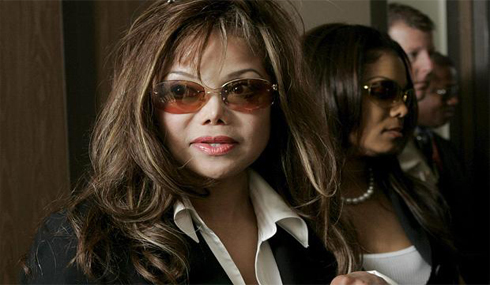 When it's news from the Jackson family these days, it's usually not good.
Michael Jackson's older sister, La Toya, is about to lose her luxurious condo in Las Vegas, Nevada. The property is located in the Regency Towers of Las Vegas International Country Club. She reportedly owes $745,670.27 on a home she paid $260,000 for back in 1996, according to TMZ.
Yep, she tripled her money on the refinance and is now heading for the hills — she apparently had all her personal effects packed up and shipped elsewhere last month.
No wonder we're in the midst of an epic financial crisis.
Anyway, La Toya has to come up with the cash by the end of the month or she's going to lose this Las Vegas hot spot. Don't hold your breath.
The Clark County Recorder's office has a scheduled auction date for the condo on September 30.  We may see more of this after Michael Jackson has died since the money has officially run out. He was a big part of why the family had so much money in the first place.