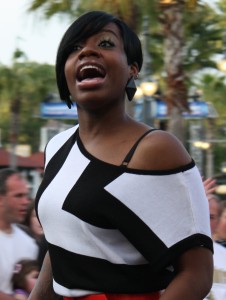 About a year ago, we talked about Fantasia Barrino fighting to keep her North Carolina home out from foreclosure. It seems that the "American Idol" winner has lost the real estate battle. According to court documents (via TMZ), she avoided the entire foreclosure process because she transferred the deed to the bank in February.
Barrino gave up the fight on her home and left behind the 6,500 square-foot North Carolina mansion. She reportedly purchased the property for $1.3 million back in 2007. However, her financial problems began in 2008. This was when she supposedly defaulted on a $58,000 loan from Broward Energy Management.
This was what triggered the house to go on the market for $800,000 last April.
This photo is courtesy of Jyle Dupuis via Wikimedia Commons at en.wikipedia and it is licensed under the Creative Commons Attribution 2.0 Generic license.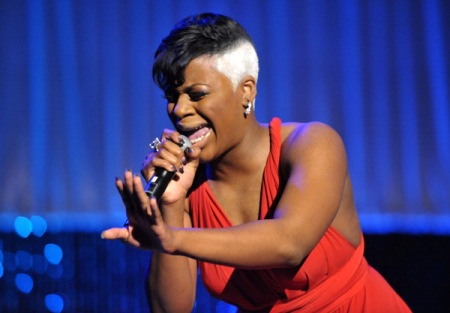 Fantasia Barrino, the talented American Idol star, is attempting to tuck away her financial troubles the right way. In 2009, she almost lost her North Carolina home to a foreclosure.
Recently, she listed the home for $800,000, which is almost $500,000 under what she paid. This 5-bedroom mansion with 38,768 sq ft was nearly lost in an auction when she supposedly defaulted on $58,000. She saved the home from the auction in eleventh-hour.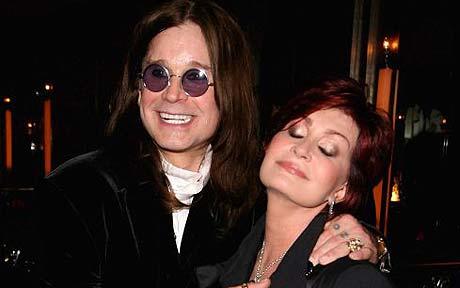 Bark at the moon, baby.
Recent reports indicate that Ozzy and Sharon Osbourne have once again been hit with another delinquent tax bill.
Now the couple apparently owes about $357,000 in unpaid federal taxes from 2007. That's in addition to the more than $1.7 million the head-banging duo recently had to fork over for admittedly not being on top of their business affairs.
In fact, the Queen of Darkness revealed that she was just too damn busy to meet with the accountant regarding the 2008 and 2009 tax bills. The 2007 bill, however, she claims was a procedural error.
Sharon recently tweeted:
"Just when we thought it was safe with the IRS, here they come again! This time their fault, not mine. Not taking this one laying down. Mine was a f*** up, yours was a "PROCEDURAL ERROR". The bill has been paid, in fact I'm owed a rebate. Please send. Big Kiss, Mrs O. On my way back to LA. I'll be at The Talk tomorrow. Why is there always drama in my life?"
Uh, maybe because you married an insane, substance-abusing rockstar. Then you decided to have three children, two of which just happened to share their father's addictive nature. Then you decided to put it all on television for the world to see on an MTV reality show.
That might be a small reason for all the drama.
Maybe. Not sure. Just a hunch.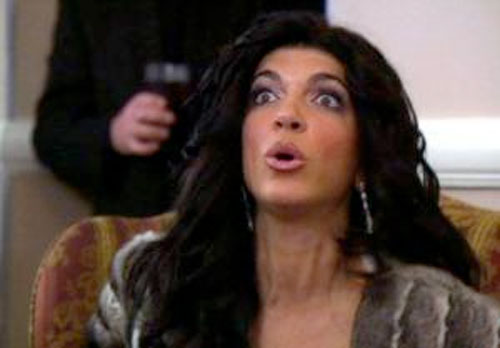 Teresa Giudice insists that she and her husband Joe are not really in foreclosure, not when it comes to the $4 million mansion they own in Towaco, N.J., anyway.
Nope, that's just lies I tell you, lies! And you can blame the evil dark empress Danielle (once again) for spreading that nonsense (and whatever else).
But not so fast …
The admittedly "humiliated" bankrupt Italian fireplug tells In Touch Weekly that it's their investment properties that are on the verge of being raffled off on the courthouse steps.
Oh, we feel so much better. And we're sure the bank that currently holds the note is completely reassured, too.
Nonetheless, Guidice, who stars as herself on the hit Bravo-produced reality show "Real Housewives of New Jersey" as a loud-mouthed, free-spending, sex-craving mother of four daughters, reveals that she has learned from her mistakes and plans to change her ways.
For starters, Joe will now be in charge of the family finances, "doing all the grocery shopping and imposing a limit on Teresa's credit cards."
Brilliant!
Tune in to see how long that lasts … if at all.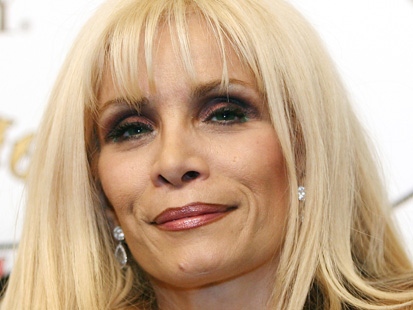 It seems like Victoria Gotti is back in the money. Last week she reportedly agreed to pay the US Government $2.6 million dollars to buy out forfeiture claims involving properties in Queens. These properties were formerly owned by her ex Carmine 'the thug' Agnello.
Sources close to Gotti advise that she is in the midst of clearing out her 'foreclosure issue' on her 6,000 sqft home.