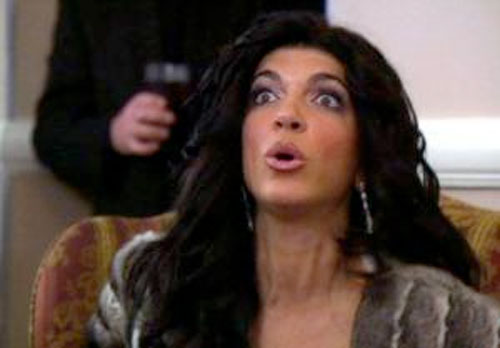 Teresa Giudice insists that she and her husband Joe are not really in foreclosure, not when it comes to the $4 million mansion they own in Towaco, N.J., anyway.
Nope, that's just lies I tell you, lies! And you can blame the evil dark empress Danielle (once again) for spreading that nonsense (and whatever else).
But not so fast …
The admittedly "humiliated" bankrupt Italian fireplug tells In Touch Weekly that it's their investment properties that are on the verge of being raffled off on the courthouse steps.
Oh, we feel so much better. And we're sure the bank that currently holds the note is completely reassured, too.
Nonetheless, Guidice, who stars as herself on the hit Bravo-produced reality show "Real Housewives of New Jersey" as a loud-mouthed, free-spending, sex-craving mother of four daughters, reveals that she has learned from her mistakes and plans to change her ways.
For starters, Joe will now be in charge of the family finances, "doing all the grocery shopping and imposing a limit on Teresa's credit cards."
Brilliant!
Tune in to see how long that lasts … if at all.