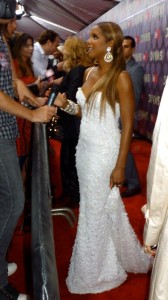 Toni Braxton is singing the Don't Break my Heart tune again these days. However, this time it is about desperately trying to save her Georgia mansion from foreclosure. Unfortunately for her, that attempt was a failure. The home is available for anyone who has $1.1 million and looking for a new property.
In 2004, Braxton took out a mortgage on the Duluth, GA home for $1.5 million. According the bank, she missed 10 monthly payments during 2004 to 2010 (via TMZ). The Georgia mansion is 11,400 square feet. It has six bedroom and six bathrooms while sitting on an acre of land.
This is the second home Braxton had that went into foreclosure. In 2010, she lost her Nevada home.
This photo is courtesy of By Philip Nelson (Tony Braxton – Vh1 Divas Red Carpet) [CC-BY-SA-2.0 (http://creativecommons.org/licenses/by-sa/2.0)], via Wikimedia Commons and it is licensed under the Creative Commons Attribution 2.0 Generic license.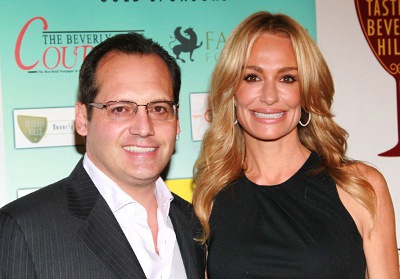 Russell Armstrong, estranged husband of Taylor Armstrong from Real Housewives of Beverly Hills, was found dead Monday at 8:16pm. The Coroner's Office rep is treating the death like a suicide. It is rumored that he hung himself from overwhelming debt and separation from his wife. After Wednesday, the coroner will begin the examination.
Russell Armstrong was an investment banker, and his wife filed for divorce last month. They have a five-year-old daughter together. He was married previously, and had two sons ages eleven and thirteen.
Russell had a history of financial problems. In 2005, he filed for Chapter 7 bankruptcy, and court documents revealed he had less than $50,000 in assets. The documents also exposed his debt to be from 1 and 10 million dollars. In addition, he has a history of law suits filed against him along with a felony for financial wrongdoing.
In 2001 and 2003, he faced charges on negligent misrepresentation, breach of fiduciary and fraud. In 1995, Russell served five years of probation after charged for tax evasion. Russell has been battling financial problems for over ten years. Taylor's rep made a public statement that she is "devastated" and trying to comfort their daughter.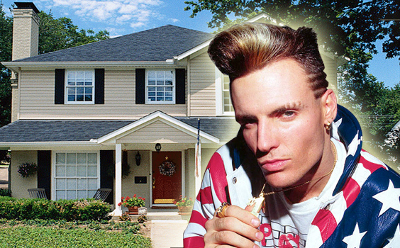 Vanilla Ice, the early 90's hip hop's star, real name Robert Van Winkle, was once known for his single that had everyone singing "Ice Ice Baby."  For some iconic stars of the 90's, the curtain went down and stayed down.  For the past few years, Vanilla Ice has been attempting to get back in the spotlight with a different approach.
His new title, carpenter and real estate investor, inspired him to start a reality show on renovations.  This show is to educate his fans on how to plan their dream homes and use their tools.  He starts the show by renovating each room of a gutted foreclosed home in Southern Florida.
While America is waiting for his show to air in 2012, people can be on the lookout for his real estate guide.  He recently said, "Most people know the common terms, short sells and foreclosures, but there's even better ways of buying homes that you can learn about, like tax liens, auctions, you can go in and if you know the process, really invest properly and get these houses for pennies on the dollar."
He continues to talk about the statistics of the areas hardest hit by foreclosures.  In addition, he said if he can capitalize on it, anyone could too.
How does America feel about taking real estate advice from Vanilla Ice?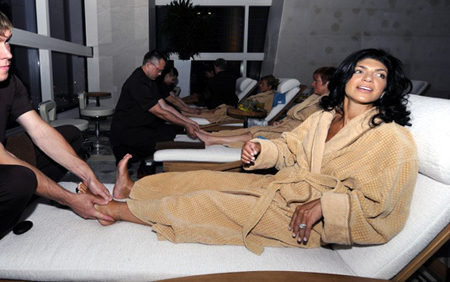 It looks like diva Teresa Giudice of Bravo's hit show 'The Real Housewives of New Jersey' is yet another addition to a growing list of housewives getting a taste of foreclosure. According to a New York Post article the NJ couple owes over $11 million to creditors and have sought bankruptcy as a 'fresh start.' Meanwhile the bank holding the mortgage on their gaudy eight-bedroom mansion has filed foreclosure proceedings.
The couple owes $2.6 million, or eight mortgages, on three separate homes. Two homes have already been repossessed by the lenders. Other debt includes $104,000 in retail credit cards, a $1,280 monthly car payment and a $2,300 monthly phone bill.
Despite their lavish lifestyle, the bankruptcy filling shows the couple only reported an income of $79,000 per year and another, more mysterious, $120,000 per year from family "assistance."
On the hit Bravo TV show, Giudice is known for her ostentatious spending habits including buying designer clothes for her three young girls. In one of the more notable shopping sprees Giudice threw down $2,000 in a mere ten minutes.
Viewers can only hope to see the quintessential Teresa 'flip out' if the custom home does eventually head to the auction block. I know I'll be tuning in for some Garden State dram-o-rama.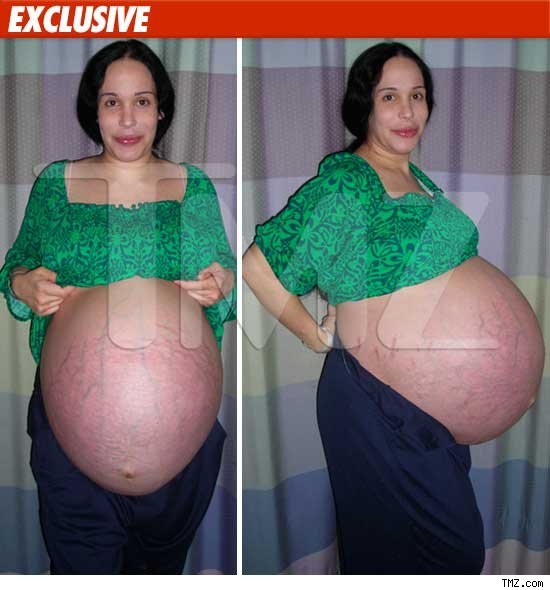 I knew this story would continue. Octoslob Nadya Suleman has been pulled from the grips of foreclosure by her Octotenticles. The AP is reporting that she has made a deal to keep paying her mortgage (wasn't that the original deal?), in order to remain in her house. Geez.
In other news, Octo will be making 5k a month from Peta for keeping spay or neuter signs on her lawn. Hmm, someone should spay her.