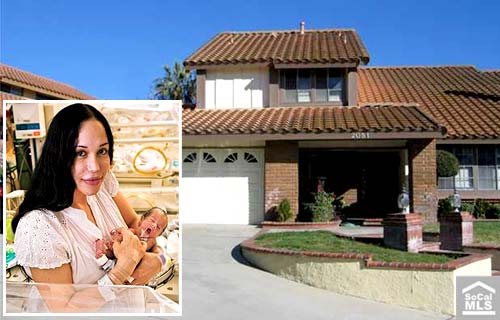 So this is what crazy can buy these days — a 2,583-foot four-bedroom home in Orange County, Calif., for a cool $564,900.
That's awesome news (again) for "Octomom" Nadya Suleman, considering that she was living off food stamps and government assistance not too long ago to help support her six children, which was before she went ahead and had eight more … at once.
Her family home in Whittier, Calif., that she shared with her mother/reluctant baby sitter, Angela, was recently the focus of a possible foreclosure suit. Grandma reportedly owed her lender $20,000 in arrears for late mortgage payments.
Grandpa appears to have come to the rescue this time around, footing the bill for the new digs, according to People.com. That's just in time for the nursing team Dr. Phil was able to cobble together to care for the shrieking eight-baby band when it is finally cleared to leave the hospital.
It must be nice living off other people's money … at least Nadya paid for the sperm donation.
To check out photos of the new Nadya Suleman home head over to the Orange County Register.