Nicholas Cage, 47, was arrested on Saturday in New Orleans.  It was reported that he was so intoxicated he forgot where he lived.  Cage allegedly pulled his wife, Alice Kim, by the arm to the home he thought was their rental.  Kim was trying to explain that wasn't their home.  This is what caused an onlooker to call the police.
The police report reads, "The actor then began striking vehicles and later attempted to get into a taxi."  At that point, an officer who had been flagged down by onlookers drove up on the couple, immediately observed that Cage was heavily intoxicated and ordered him out of the cab, which prompted Cage to start yelling. "Why don't you just arrest me?"  The officers again told Cage to go home, and Cage allegedly dared them to arrest him again.
He was then detained on one count of disturbing the peace and one count on domestic abuse.  Later, he was released on $11,000 bail.
Cage just keeps sinking further down with his already domestic battery charge and a $14 million tax bill-despite his $40 million salary last year.
Cage had six homes foreclosed on and four federal tax liens filed against his properties in three different states.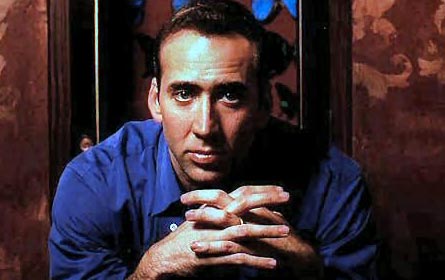 Well, if there is one thing going Cages' way, it's definitely that he can still get work. Nicolas Cage will be starring in a new 3-D movie called "Drive Angry." The name is definitely suitable with his financial situation and all.
Summit Entertainment is behind the big blockbuster and this isn't the first one they have done with Cage. Summit was apparently behind the movie "Knowing," where Nicolas Cage was also lead actor. Directing the flick will be Patrick Lussier and will be shot in 3-D just like the blockbuster "Avatar," which is set to release this Friday.
"Drive Angry" is a revenge style movie where Nic will be chasing his daughter and took her baby. The movie is set to release February 11th, 2011. There is no word on how much Cage will get out of the deal but he is still in the hole with the IRS for over $6 million.