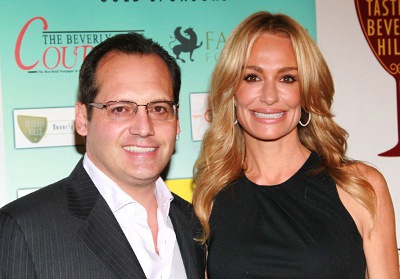 Russell Armstrong, estranged husband of Taylor Armstrong from Real Housewives of Beverly Hills, was found dead Monday at 8:16pm. The Coroner's Office rep is treating the death like a suicide. It is rumored that he hung himself from overwhelming debt and separation from his wife. After Wednesday, the coroner will begin the examination.
Russell Armstrong was an investment banker, and his wife filed for divorce last month. They have a five-year-old daughter together. He was married previously, and had two sons ages eleven and thirteen.
Russell had a history of financial problems. In 2005, he filed for Chapter 7 bankruptcy, and court documents revealed he had less than $50,000 in assets. The documents also exposed his debt to be from 1 and 10 million dollars. In addition, he has a history of law suits filed against him along with a felony for financial wrongdoing.
In 2001 and 2003, he faced charges on negligent misrepresentation, breach of fiduciary and fraud. In 1995, Russell served five years of probation after charged for tax evasion. Russell has been battling financial problems for over ten years. Taylor's rep made a public statement that she is "devastated" and trying to comfort their daughter.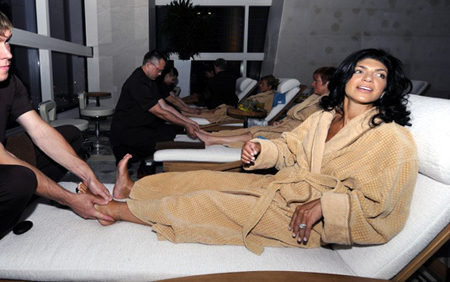 It looks like diva Teresa Giudice of Bravo's hit show 'The Real Housewives of New Jersey' is yet another addition to a growing list of housewives getting a taste of foreclosure. According to a New York Post article the NJ couple owes over $11 million to creditors and have sought bankruptcy as a 'fresh start.' Meanwhile the bank holding the mortgage on their gaudy eight-bedroom mansion has filed foreclosure proceedings.
The couple owes $2.6 million, or eight mortgages, on three separate homes. Two homes have already been repossessed by the lenders. Other debt includes $104,000 in retail credit cards, a $1,280 monthly car payment and a $2,300 monthly phone bill.
Despite their lavish lifestyle, the bankruptcy filling shows the couple only reported an income of $79,000 per year and another, more mysterious, $120,000 per year from family "assistance."
On the hit Bravo TV show, Giudice is known for her ostentatious spending habits including buying designer clothes for her three young girls. In one of the more notable shopping sprees Giudice threw down $2,000 in a mere ten minutes.
Viewers can only hope to see the quintessential Teresa 'flip out' if the custom home does eventually head to the auction block. I know I'll be tuning in for some Garden State dram-o-rama.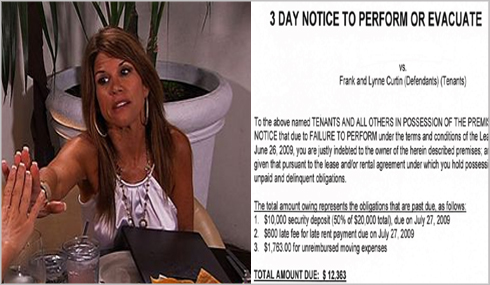 Not so fast!
The Lynne Curtin eviction from an Orange County home might take longer than the three-day notice implies.
That's because the eviction notice that Curtin and her husband received from their landlord to pay more than 12,000 in owed rent and other expenses was served on their daughter.
Therefore, the legal document for the eviction is apparently invalid, meaning the Curtin's now have more than three days to to remain deadbeats and live in complete darkness, take cold showers and enjoy all the other luxurious amenities that come along with having their basic utilities shut off.
Lynne and her husband have brought in their lawyers (of course) to fight the eviction and expenses, but it still doesn't look good for the real housewife. The landlord is said to re-serve the eviction notice under the proper name this time.
What an ingenious idea. Not sure how he didn't think of it sooner.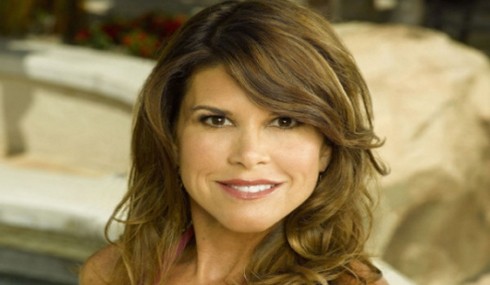 When one housewife falls, so does another.
Lynne Curtin from "Real Housewives of Orange County" received a three-day eviction notice for a home she and her husband rent in Laguna Beach. If she doesn't come up with $12,000 in this time, she's out.
Curtin and her husband apparently owe the owner of the home $10,000 for the security deposit and another $2,000 for some other fees. The owner of the Laguna Beach home has turned off the utilities in the home since she and her husband didn't pay for those either.
I wonder if our next article will be about another housewife …