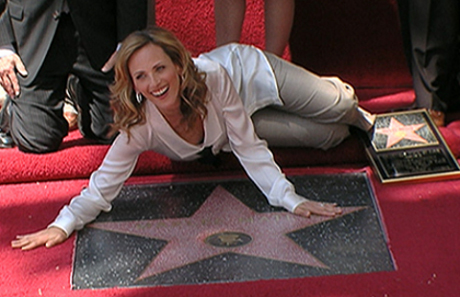 Marlee Matlin, 45, just confirmed that she owes the IRS $50,000 in back taxes.
To pay off the debt, the award-winning actress plans to sell her home in Pasadena, Calif., and take her four children out of private school.
Sounds like she's serious.
Matlin stated, "I'm paying it back. I'm not shying away from it and I'm certainly not ashamed of it. It doesn't mean I'm a bad person. It's reality. It's the reality that a lot of people in America are facing."
Regardless of her Hollywood status, Matlin remarked that the debt did not come from living a lavish lifestyle.On the contrary, she signed said, "Living modestly in a suburban neighborhood while trying to support four children through private school is not extravagant or living large."
The 2,607 square-foot home has five bedrooms, three bathrooms and is currently listed for $899,000.
Maitlin is a deaf actress best known for her lead role in the 1987 film "Children of a Lesser God" and made appearances in television shows such as "Dancing With the Stars," "Seinfeld," "Law & Order: Special Victims Unit" and "Picket Fences."
She is currently a contestant on this season's "Celebrity Apprentice."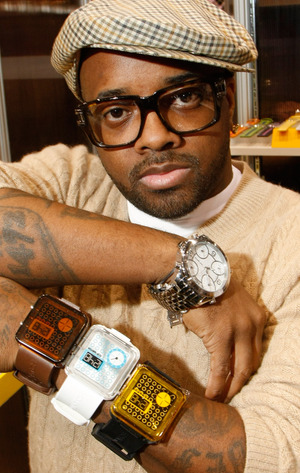 The hip hop artist and Grammy-winning producer, Jermaine Dupri, fell behind on payments for his Atlanta mansion.  Last week, the home almost went into auction for unknown reasons.  The sale was terminated at the last minute.  Maybe he learned a lesson from 2002 when his property was seized by IRS agents for an outstanding debt of over $2 million.
No details have been specified why the home was removed from auction.  The foreclosure was started on the original amount over $2.5 million from Suntrust Bank.  Dupri also owes $14,024.67 on unpaid property taxes, penalties and fees that are connected with another home he owns.
In addition, it's been reported Dupri owes the State of Georgia $493,768.75 for back taxes from 2007.
If that isn't bad enough, now he owes a contractor $12,000 that has been managing the home's renovations.  The contractor, Tom Regan, filed a lien on Dupri's mansion for the unpaid bill.  The 'Money Ain't a Thang' artist's financial woes are far from over with his recent court ordered child support bill he just received.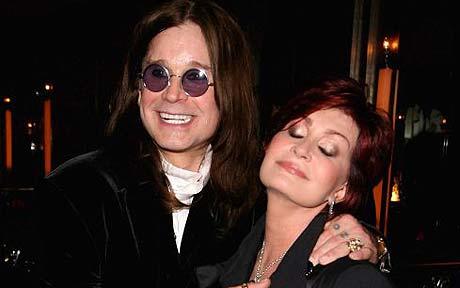 Bark at the moon, baby.
Recent reports indicate that Ozzy and Sharon Osbourne have once again been hit with another delinquent tax bill.
Now the couple apparently owes about $357,000 in unpaid federal taxes from 2007. That's in addition to the more than $1.7 million the head-banging duo recently had to fork over for admittedly not being on top of their business affairs.
In fact, the Queen of Darkness revealed that she was just too damn busy to meet with the accountant regarding the 2008 and 2009 tax bills. The 2007 bill, however, she claims was a procedural error.
Sharon recently tweeted:
"Just when we thought it was safe with the IRS, here they come again! This time their fault, not mine. Not taking this one laying down. Mine was a f*** up, yours was a "PROCEDURAL ERROR". The bill has been paid, in fact I'm owed a rebate. Please send. Big Kiss, Mrs O. On my way back to LA. I'll be at The Talk tomorrow. Why is there always drama in my life?"
Uh, maybe because you married an insane, substance-abusing rockstar. Then you decided to have three children, two of which just happened to share their father's addictive nature. Then you decided to put it all on television for the world to see on an MTV reality show.
That might be a small reason for all the drama.
Maybe. Not sure. Just a hunch.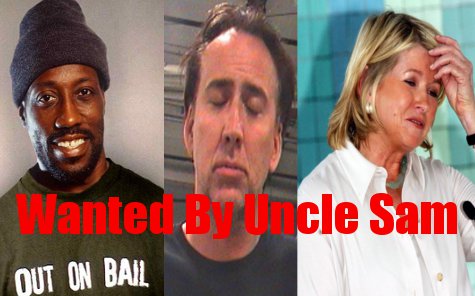 Most Americans are scrambling across the United States to get their taxes filed before the deadline expires. Some filthy-rich celebrities, meanwhile, likely are not as concerned, feeling as though they are too awesome and untouchable to be bothered.
This year, procrastinators have three extra days to delay the inevitable with the deadline being pushed to April 18 (not April 15) in honor of Emancipation Day.  With this extension, perhaps it can help those celebrities who have been getting themselves in financial trouble throughout the year.
But let's not get too crazy.
That's because history proves that certain celebrities have been caught with their hands in the IRS's cookie jar. Whether its foreclosure, tax evasion or straight up defiance, the seemingly rich and famous are not immune to the financial troubles that affect us poor common folk.
Some celebrities probably think they're slick and can outsmart the IRS. Anything is possible, but the celebrities mentioned below definitely are not among them: