Evander Holyfield in Contempt of Court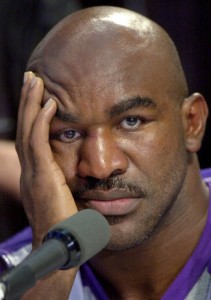 It looks like the legendary boxer; Evander Holyfield is having difficulty dodging these financial blows. Once again, he is back in the news, but this time he is being held in contempt of court in Georgia. He failed to pay $563,900.91 in back child support.
According to TMZ, this original debt stems from the initial payment of over $372,000. The child support is for his 18-year old daughter, Emani.
Holyfield was found in contempt of court by the judge who ordered him to pay $2.950 a month to settle the debt. However, the boxer did make an initial payment of $17,700, but the judge ordered a percentage of his income to be earmarked in order to pay down the debt.
Comments